Turnkey Laboratory for Technical Cleanliness
Technical cleanliness inspection and analysis is becoming increasingly important in many sectors of industry, the automotive industry, hydraulics and production systems, aerospace industry, medical devices industry. At the same time the VDA 19.1 / ISO 16232 as well as internal company standards are becoming more and more known by people.
We take auto parts as an industry case to illustrate. Whether it is a traditional fuel vehicle or a new energy vehicle, the cleanliness of the surface of the parts has a very important impact on the reliability and durability of the parts at work. The particulate contamination on the surface of parts are usually metal chips, metal dust, dust, fibers, oil, etc. The particulate contamination will cause accelerated wear and tear of auto parts, short circuit spontaneous combustion, abnormal damage, blockage of oil and waterways, etc., thus affecting the service life of the entire car.
How to find a simple and fast testing method of contaminant particles analysis? How to help improving product quality and reduce its costs? How to help customers achieve effective automotive component cleanliness control? As a researcher of auto parts cleanliness inspection and analysis division, we, Jetblue CleanTec, are concerned about these issues every day.
Based on years of industry experience and a large user base, Jetblue CleanTec provides you with everything you need from design drawings to technical cleanliness turnkey laboratories. According to your actual needs and budget, we can provide different class of cleanliness laboratory planning and construction. Several grades of technical cleanliness testing laboratories as below:
A. Independent airtight room, partition cloakroom, equipped with air conditioner (conventional technical cleanliness inspection and analysis clean room)
B. The entrance is equipped with an air shower system, a partition cloakroom, an air conditioner, a positive pressure circulating filter system, etc. (Class 8 technical cleanliness inspection and analysis clean room)
C. Generating plant/powertrain laboratory (disassembly, transportation, transmission, technical cleanliness testing, technical cleanliness analysis)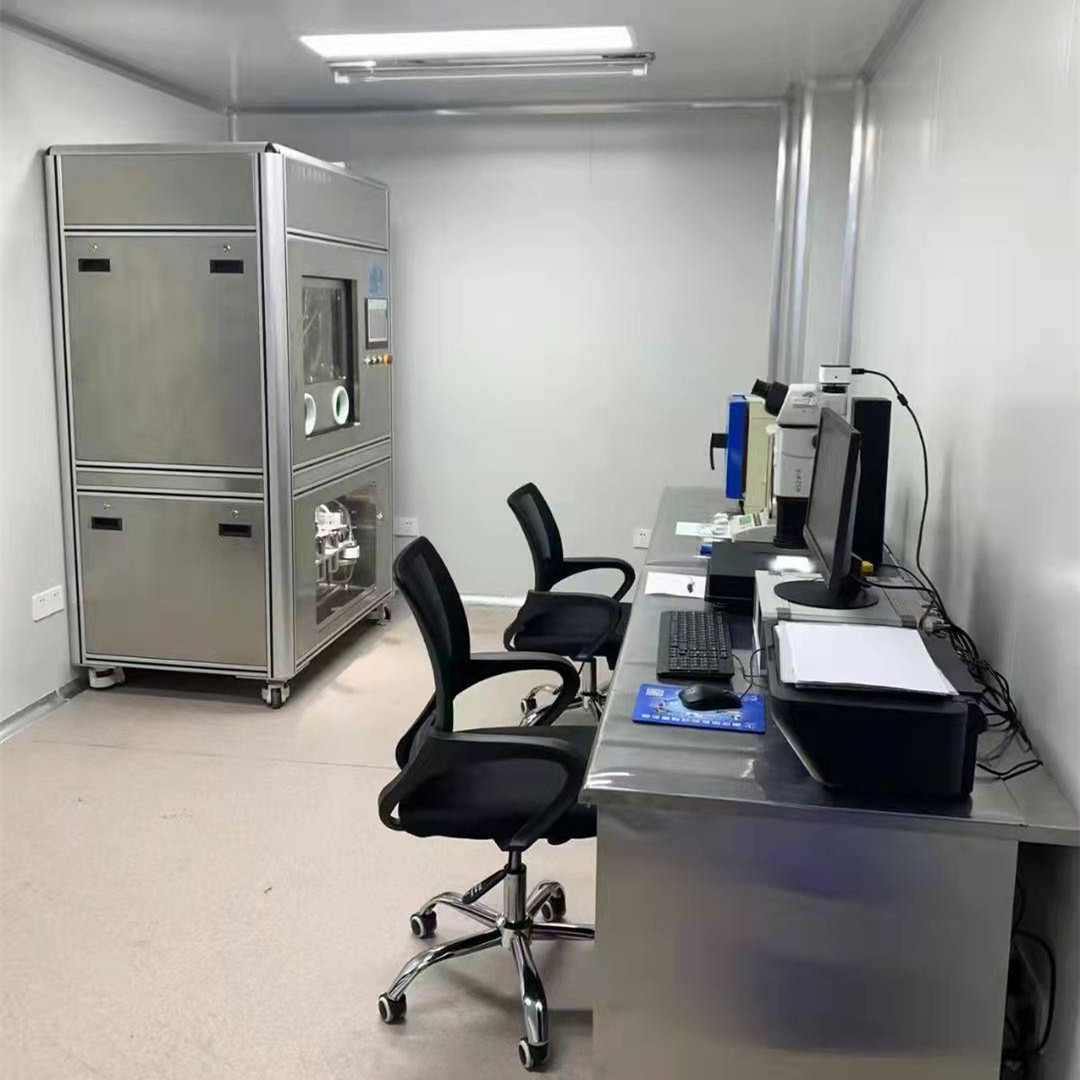 Technical cleanliness turnkey laboratory planning
In the process of technical cleanliness inspection and analysis, care should be taken to avoid secondary contamination or cross contamination. In the VDA19.1 standard, it is recommended that the technical cleanliness laboratory should achieve a certain cleanliness. Generally, it is implemented in accordance with ISO14644-2015 and GB50073-2001 cleanliness standards. We can plan and design cleanliness laboratories according to customer testing requirements. Technical cleanliness turnkey laboratory specification as below:
1 Area: about 20 ㎡
2 Grade: ISO 14644 Class 8/7, 100,000/10,000
3 Functional areas: Cleanliness & Flushing equipment, weighing analysis area, optical particle analysis area, drying area, sample waiting area, test piece storage area, dressing area, air shower area
4 In order to avoid secondary cross-contamination of samples and ensure the validity of test results, the technical cleanliness laboratory planning and recommendations are described as follows:
4.1 Access control is set at the main entrance of the laboratory. Operators are required to work with certificates. Outsiders need to make an appointment to register to enter.
4.2 The first step for personnel to enter the laboratory is to change clothes and shoes. Before the air shower, set up sticky foot pads. The second step is to enter the air shower, and the third cloth to enter the operation area for work.
4.3 Set the transfer window to avoid frequent opening of the air shower
4.4 The balance is equipped with a separate shock-proof platform to ensure the test accuracy
4.5 Setting the sample holding area
4.6 Detailed identification of each functional area to keep it clean
4.7 Set up a sample storage area to facilitate future problem tracing
4.8 Designated equipment, dedicated personnel, gloves, and hats for one-time use
4.9 The middle of the partition is a glass perspective window, high-end atmosphere
4.10 Reasonable location of positive pressure air intake and supplementary air system
4.11 Laboratory setup turnover area
4.12 The temperature and humidity are controllable, and the positive pressure value reaches the design plan
4.13 The ground is made of anti-static and corrosion-resistant PVC material
Extraction systems for inspection of technical cleanliness according to VDA 19.1 and ISO 16232
Our extraction systems are equipped with spraying extraction method, rinsing extraction method, ultrasonic cleaning extraction method and online filtration and film-making of cleaning agents, which can realize the synchronization of parts cleaning and particle pollutant filtration and recovery, and can remove the particles on the surface of the parts in time. The contaminants are collected on the surface of the filter membrane, and the filter membrane sample can be obtained after cleaning the parts to reduce the residence time of particulate pollutants in the cleaning agent. It is widely used in particle extraction and sample preparation for the detection of surface cleanliness of various auto parts. For example: engine block, cylinder head, gear, crankshaft, connecting rod, camshaft, valve, piston, rocker arm, transmission shaft pin, oil pump, water pump, turbocharger, oil pipe oil circuit and other parts and assemblies and the cleanliness detection. At the same time, the equipment supports the optional ultrasonic cleaning area for small parts, which is more convenient for efficient and effective cleaning and extraction of small parts such as screws, bolts, and screw sleeve bearings. We can also customize the size of the cleanliness extraction cabinet and the cleaning method of the cleanliness extraction cabinet according to the special needs of customers. In short, we can meet any of your needs based on our experience. All types of machines perfectly suitable for performing cleanliness tests in accordance with VDA 19.1 and ISO 16232 or your internal company standard.
Particle analyses system in technical cleanliness laboratory
Particle analyses system including
Optical Filter Analysis System: Customized optical microscope (macro or metallographic mirror), brands: Olympus, Leica, Nikon, JETBLUE.
Motorized Platform: High-precision three-axis motorized scanning platform, combined with the high-precision auto-focus function in the JETBLUE cleanliness testing image analysis system, can perform one-button auto-focus on the filter membrane, reducing artificial focusing errors, making the image clearer and scanning more accurate.
Imaging Device: 6.8-megapixel color CMOS digital camera with a pixel size of 2.2×2.2 μm, which meets the requirements of at least 10 pixels arranged on the maximum length of particles specified in the VDA19.1-2015 and ISO 16232-2007 standards. Combined with the intelligent technical cleanliness analysis software independently developed by JETBLUE, it can automatically take pictures, automatically focus, automatically control scanning, and automatically identify and analyze, to ensure that the number and properties of particles are not missed and misjudged, and the detection efficiency is higher.
Inspection and Analysis Software: professional technical cleanliness inspection and analysis software, with high intelligence, workflow-based design mode, easy operation, fast and efficient image acquisition, automatic compensation and focus to ensure that each frame of image is clear, seamless stitching and browsing, intelligent identification and statistics, according to selection criteria generate results and reports.
With the help of the Jetblue CleanTec particle analyses system, we can complete the determination of the metallic gloss reflection properties of all contaminants on the entire filter membrane in a single scan, while the morphological definition of fibers according to VDA19.1 (stretch length / The maximum inscribed circle diameter > 20, the largest inscribed circle diameter ≤ 50 microns), the classification and size measurement of the following four types of particles can be quickly and automatically completed within a few minutes: reflective particles, reflective fibers, non-reflective particles, non-reflective fibers.
Find the right solution for technical cleanliness inspection and build your own 20 m² technical cleanliness testing laboratory in accordance with VDA 19.1 and ISO16232!
Please send your requirements to [email protected] and answer a few short questions, so we can recommend the best one that fits your needs.